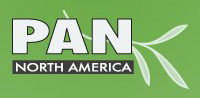 Donate a Car to the Pesticide Action Network
Thank you for your interest in donating a vehicle to the Pesticide Action Network. Your donation will go to support the Pesticide Action Network and help them continue their important work.
Mission of the Pesticide Action Network
PANNA (Pesticide Action Network North America) works to replace pesticide use with ecologically sound and socially just alternatives. As one of five PAN Regional Centers worldwide, we link local and international consumer, labor, health, environment and agriculture groups into an international citizens' action network. This network challenges the global proliferation of pesticides, defends basic rights to health and environmental quality, and works to insure the transition to a just and viable society.
visit the Pesticide Action Network Website
Call 800-269-6814 or Use the Easy Online Form to Donate Now
Related: California | San Francisco | Children | Environment | Health | Human Services