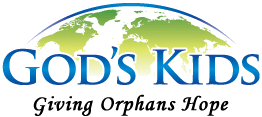 Donate a Car to God's Kids
Thank you for your interest in donating a vehicle to God's Kids. Your donation will go to support God's Kids and help them continue their important work.
Mission of God's Kids
God's Kids exists to bring orphans hope. We are currently involved in 7 countries including Liberia, Mexico, Thailand, India, Bangladesh, Romania and the Philippines. There are 100 million orphans worldwide. Unfortunately, many of these orphans are not being cared for properly as you may know, corruption is rampant in orphanage throughout the world. Donations are often siphoned and never make it for their intended purpose; to help orphans. God's Kids has created guidelines that orphanages must follow and creates accountability structures locally so that orphanages can be monitored. You can be assured your gift will help directly touch the life of an orphan.
Call 800-269-6814 or Use the Easy Online Form to Donate Now
Related: California | Children | Education | Faith Based | Family Services