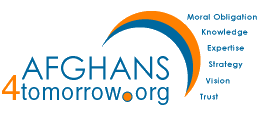 Donate a Car to Afghans 4 Tomorrow
Thank you for your interest in donating a vehicle to Afghans 4 Tomorrow. Your donation will go to support Afghans 4 Tomorrow and help them continue their important work.
Mission of Afghans 4 Tomorrow
Afghans4Tomorrow (A4T) is a non-political organization dedicated to the reconstruction and development of Afghanistan. A4T provides essential services to its people through the establishment of a professional, humanitarian, and unified organization.
visit Afghans 4 Tomorrow Website
Call 800-269-6814 or Use the Easy Online Form to Donate Now
Related: